4 Star 0
3 Star 0
2 Star 0
1 Star 0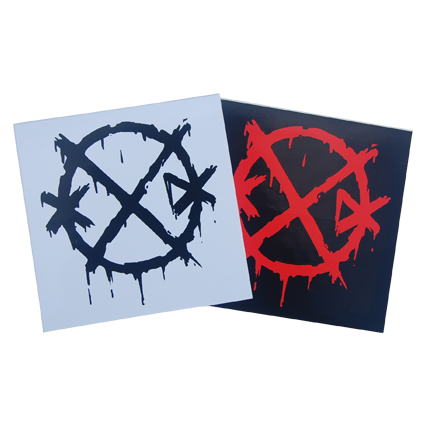 13-09-2015

One sticker went promptly on my laptop, and the other is waiting for the perfect home. They're a good size, and I love the simplicity of the logo.

HEALDSBURG

-

United States




19-12-2014

Nice stickers:) Logo looks great.




22-10-2014

Cool stickers for your guitar, guitar hard case, laptop, refrigerator etc. I'm not yet sure where I'm gonna stick 'em, but I know that they'll look great anywhere I decide to put them.




18-08-2014

My netbook looks better :D




30-03-2014

Ready to put these on my cars.

ARLINGTON

-

United States




23-03-2014

Awesome quality, I'll definitely be buying more!

Lancaster, Ohio

-

United States




03-03-2014

they look great in my kitchen now thanx




27-09-2013

Awesome! Even after a few carwashs they're still on my car!




17-04-2012

Great stickers. Amazing quality. My son can't wait to put them on his guitar. He says that his guitar will look a million times better with Crashdiet on it :)

Las Vegas

-

United States




18-03-2012

quality product as always, look awesome on my guitar, have yet to be let down.

newcastle

-

United Kingdom




25-02-2012

Moscow

-

Russian Federation




26-12-2011

My guitar and my mirror looks waaaaay more awesome right now! Kickass stickers. Hands down.




09-10-2011

Wellmade stickers, good colorscheme, great choice of material and the (maybe wellplanned?) shape makes them fit pretty much anywhere; computers, guitarcases, doors, televisions, backpocket of your pants and whatnot.




06-10-2011

This stickers have a really high quality. Have the black one on my new car which i got last year and it still looks like new, despite a really hard winter last year. So i decided to order them again, you never know when you need them ;)




02-10-2011




20-09-2011

Great stickers nice too put on your guitar;)awesome




14-09-2011

Fanstastic stickers! Stick'em everywhere!




03-09-2011

Bought the stickers for some friends and myself and they are great. Good quality, thick paper.




16-08-2011

These stickers are great. Bought 3 lots for me and friends! Very good price too!