4 Star 0
3 Star 0
2 Star 0
1 Star 0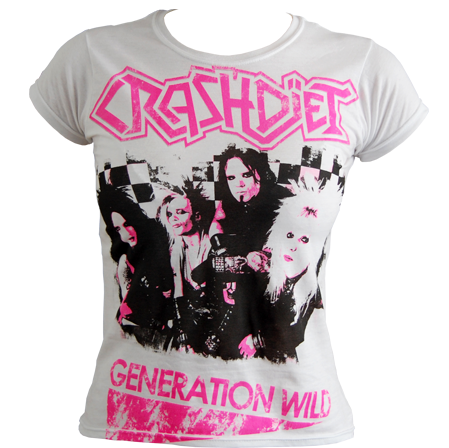 15-07-2015

I love this because it makes me feel that I am a pretty woman :)




13-09-2013

Fits perfectly, very good quality. Bought this when the band was having a rough time, always replied to my e-mails and were very friendly and concerned.




25-06-2012

Sjukt snygg och tjejen blev strålande glad.




04-06-2012

Love this! Especially the pink accents. It's perfect. Super easy ordering. Fast shipping. _3

Flagler Beach

-

United States




14-05-2012

Awesome T-shirt, great fit.




28-04-2012

I got this shirt for my birthday and it's the best present ever! Looks very awesome, and the colours are great. Very good quality. Love it!




13-04-2012

I love this shirt. It fits perfect and the quality is great.




12-03-2012

Ordered this shirt in medium size, turned out a bit tight but once you have it on for an hour or so it fits like a normal medium size. Colors are as bright as on the picture (love it!), white is a bit see through but the print covers the most important parts ;).




11-03-2012

Was a little smaller than I thought, but I solved it with making it to a, which I love. And after around 4 - 5 washes, it still looks excactly the same as when I bought it! Thumbs up!




11-03-2012

Very fast shipping from Sweden to Belgium for this beautiful lady shirt! Recommended to every Crashdiet fans!!!




08-03-2012

An Awesome Crashdiet top! Always true to size & very well made. I'm loving the pink logo's on the back too!




28-02-2012

WILD WORK!!! Excellent service and fast delivery. The pink generation wild lady t-shirt has a nice picture and lovely colours. I'm sure it will suit perfectly (it´s a present for my girlfriend that i didn't give it to her yet...i'm sure she'll love it ;). It was my first purchase and i'm thinking of more. Thankx guys!! You're the best!! Keep rrrocking!!!




27-02-2012

I purchased my t-shirt and it was posted the next day!! Thank you also for my stickers and guitar pick that were sent with it!! Will definitely buy from here again!!




24-02-2012

My Girlfriend is very very satisfied!!!! and she's ROCK!!!! \m/_




23-02-2012

what you see is what you get! good. Dont forget to keep it seperate from your black clothes in the washingmachine ;D




21-02-2012

Excellent quality t shirt, it fits perfectly! Great colour too!




21-02-2012

Love the shirt, it fits perfectly and has a great quality!




20-02-2012

Great shirt, good fit. Worth the money :)




07-02-2012

Bought it as a present for a friend. She totally loves it!

Livingston

-

United Kingdom




31-12-2011

most beautiful ladys t shirt EVER!!! its nice and pretty and girly fit well with my glam rock look love to see more shirts like this one! thank you :) looooooove this shirt the best :D _3 _3 _3 _3 _3 _3 _3 _3 _3 _3 _3

Nottingham

-

United Kingdom




18-11-2011

this t-shirt is amazingly bright and glam, straight into your face! wow! love it!




04-11-2011

I ordered a size M ladies.Japanese is 5 feet 4.57 inches, was a good size.Good color, good comfort. Pink is so cute, girls will absolutely recommend!




08-10-2011

Bought this one for a friend n she's totally in love with it! Fits perfect, amazing colours, just everything! Thanxxx!




07-10-2011

Delievery was prompt and the shirt exellent quality.




05-10-2011

It looks gorgeous! I love this T-Shirt.




05-10-2011

Super T-shirt aussi beau et flashy qu'en photo ! Bonne qualité du tissu, j'aime beaucoup l'arrière :) Merci pour la rapidité de l'envoi vers la FRANCE ! PERFECT :D




14-09-2011

Love it! The quality is amazing.




10-09-2011

Girlfriend absolutely loves this t-shirt, looks really good on her too!




18-08-2011

Good quality. Highly recommended!!




15-08-2011

nice colors-and nice quality! the print is not that "hard" as we know from some bandshirts-so its really nice to wear!!!




15-08-2011




15-08-2011

I absolutely love this! The tshirt is great quailty, it feels really nice to wear and fits perfectly (A size large really is just a normal large!)Postage was also extremely fast (even all the way to Australia!) I can't wait to buy more from the Crashdiet store!




17-01-2011

Amazing shirt, it just fits perfect and the colours are perfect. It reached my house within one week, even though I live in Germany. I can't imagine to live without it ;)

Angelburg-Gönnern

-

Germany




12-01-2011

This shirt was my first Crashdïet one, i bought when they were in Brazil... Fits perfectly and the print is just great!




12-01-2011

An awesome shirt, i love the colours and the back is great too! The picture is really nice, i loovee it!




31-07-2010

I think is a beautiful t-shirt and the best thing is that the XL size fits boyz! When I bought it I didn't know if it would fit... But it fits perfectly




28-07-2010

I really really love this girlie! It fits just perfectly and it have already become one of my favourite shirts! The colours with the bandprint -so cool!




14-07-2010

I bought this t-shirt in May. In three days was at my house in Spain. They resolved my doubts about the size. The t-shirt is wonderful Congratulations Crashdiet!!!!!!!!!!




14-07-2010

My sister really love this t-shirt and she ware it all the time. She likes the design and the colouring.




12-07-2010

My wife Monica likes so much this t-shirt....she uses that to sleep all the summer nights




12-07-2010

I love this shirt! The design and colouring look awesome. The Gildan Soft Style branded Tshirt it is printed on fits better and is more comfortable than most other girls shirts. It also shipped much quicker than I expected to Australia!




11-07-2010

Great T-shirt, lovely fit, very quick postage to UK. Thanks!! xxxx

Brighton

-

United Kingdom




11-07-2010

Gorgeous shirt, fits well and I especially love the bright pink colour which makes a welcome change from the typical shirts other bands produce. Along with the quick shipping to UK, this was a great buy :)




11-07-2010

Bought it too at the Gothenburg gig. My friend is so happy to wear it. It's glam and class! Lovely!




11-07-2010

Fantastic quality t-shirt. No loose threads and neat seam work. The shipping was also really good and a very friendly service too.




11-07-2010

I bought this t-shirt about a week ago and LOVE it. The quality is really good, the sizing is standard (they dont run too big or too small) and the fit is great for a girls tee. Im thinking about buying another one so when I trash the one out that I already have, Ill have a new one ready to go :P




11-07-2010

Well, normally I HATE pink! But in this t-shirt it's look really good! Beautiful t-shirt and really good quality! Only one thing: the faces shouldn't be so pink :(




10-07-2010

Size is smaller than I expected, so take a bigger than normally. Lovely but I don't really like boys' pink faces.