The Story
The Story
Here's the first edition of the Rust tour tee that we printed before we went on our longer European tour back in October 2019.
I still have too many leftovers, and since the 2020 tour t-shirt (with mostly cancelled dates) is up now I thought we could offer 50% off on these.
Please help me get rid of them :).
Print on B&C's #E150 t-shirt in black.
Designed by Martin Sweet.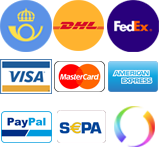 Contact
Crashdiet AB
Bjulevägen 26
122 41 Enskede
Sweden
VAT #556875386601